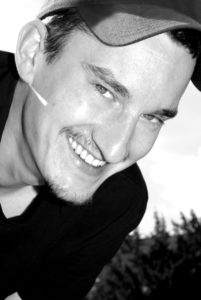 Hendrik Dingler is a Frankfurt am Main based Composer, Sound Designer, Live Performer and Audio Engineer. He studied Audio Engineering at the SAE (School of Audio Engineering) in Cologne and Frankfurt am Main and Electronic Composition at the Folkwang University of Arts in Essen, Germany.
Pieces of him were played at the Lange Nacht der Musen (Darmstadt, Germany), the Galerie Lausberg (Toronto, Kanada) and at the Music Festivals Limburg on/off, Next Generation (ZKM, Karlsruhe), Linux Audio Conference (Maynooth, Ireland) and the Musicacoustica-Bejing (China).
Compositions and Sound Designs: Quadrangle AV (Cultural Capital 2010, Zeche Zollverein Essen, Germany), Ruhrlautsonate (Pina Bausch Theatre, Folkwang UdK), Stadt Land Ruhr (Pina Bausch Theatre, Folkwang UdK), Cats lost in Space (short film by Eva Münnich), Regenbogenmaschine (short movie by Samuel Maasho and Riccardo Jurkovic), Disgraced (English Theatre Frankfurt (ETF)), Witches (ETF), Living with Lady Macbeth (ETF), Hand to God (ETF), The Lion in Winter (ETF), TAMAH (short film by Erhan Yürük, participation at the 6th International Film Music Competition, original music by Jeremy Dirat), Cut'n go ahead v.0.1.5 (performance at the Institut für Neue Medien Frankfurt).
Please visit my portfolio to have a closer look:
Portfolio Page
Or ask me directly for further information:
Contact me